Why 360 Visions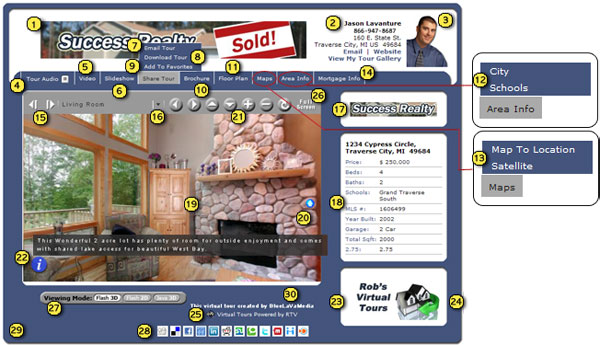 Here are some of our many virtual tour features:
Tours support a custom virtual tour banner.
Agent or tour owner contact information and links to their e-mail, website, and online virtual tour galleries are included.
Agent or owner photograph can easily be added to further customize the tour window.
We offer professional voiceover and/or music clips.
The Video button allows you to add video clips to your virtual tour.
The Slideshow button launches our V-Slide feature. V-Slides showcase up to 60 still or panoramic images in an elegant flash based presentation.
The Email button allows viewers to easily e-mail a link of the virtual tour to family and friends.
The Download button allows viewers to download the tour as a program file for quick and easy distribution by CD or other types of media.
The Favorites button quickly adds the tour to a viewer's Favorites section of their web browser.
Custom printable flyers and floor plans can be included with every virtual tour.
Additional city information can be accessed on every virtual tour.
The location of each virtual tour is automatically mapped for the convenience of the viewer.
Detailed public and private school, as well as city information is included.
The mortgage information button allows estimated mortgage information to be calculated and can be directed to a preferred mortgage vendor's site as a lead generator.
The "Back/Next" arrows return the viewer to the previous scene or takes them to the next.
A shortcut drop down button makes each scene within the virtual tour easily accessible.
This space is typically reserved for the real estate or business logo.
Detailed MLS information is included with every tour.
The RTV virtual tour window is larger than other companies and does NOT compromise download speed. Our images are crisp, clear and window shots are never washed out.
Hot spots can be customized for each client. Hot spots provide additional information, take the viewer to other scenes within the tour, other websites, or launch additional tours.
Navigation buttons give viewers control regarding zooming in or out, turning left, right, up or down.
Spinfo allows text based descriptions to be entered for each scene within the tour.
Marketing partner banners can be easily added in the lower right corner of every virtual tour. Adding other marketing partners to participate in the advertising reduces the already affordable price of RTV virtual tours making them even more affordable.
Skin colors can even be customized allowing you to fully personalize your virtual tours.
The "secret" hit counter button enables virtual tour hit traffic reports to be run anytime.
The FULL SCREEN button instantly changes the tour view to be a FULL SCREEN, High Definition viewing experience.
Virtual tours are available for playback on three primary platforms; Flash 3D (for full experience), Flash 2D (removes optical correction), and Java 3D (when flash is not available).
Instantly post your virtual tours to your favorite social bookmarking sites. Tours are easily Tweeted and posted to Facebook.
Spider – The RTV virtual tour window has been specifically programmed to feed dynamic tour information. Using our online Tour Management System (TMS), you can control how search engines see your tour and how they index the information provided by your tour.
Create powerful back links and additional promotion for your company by advertising using customizable text based link.