HD V-Slide
Check out our High Definition Slideshow, The HD V-Slide. This a great way to enhance a listing at an affordable price. We can shoot up to 20 Still shots of your listing and put them together in a great package that can be linked on any site including the MLS. You will receive a branded and unbrandeded version.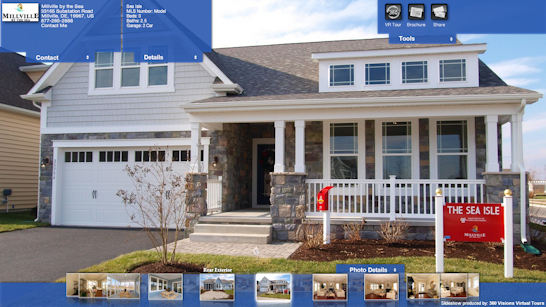 All of our HD V-Slides Include:
Include up to 20 HD images for custom slideshow presentation
Are portable to your favorite social networking sites
Custom full screen HD V-Slide window
Agent picture, contact information
Link to V-Slide and Virtual Tour gallery enabled
Property description posted to V-slide
Social Bookmarking of V-Slide is enabled
Offer weekly email V-Slide traffic reports
Allow for posting to MLS with supplied Unbranded Link
Allow for posting to Realtor.com
Posting of V-Slide to your website
Posting of V-Slide to company site
Email enabled for online sharing
Google Map and Satellite view
MLS Data listed within V-Slide
FREE Unlimited text updates on tour
HD V-Slide Pricing:
$70 for Up to 20 Still Shots
This pricing is for the Sussex County. Please contact us for quote out of the area.